From the April 5, 2019 edition of The Criterion
By John Shaughnessy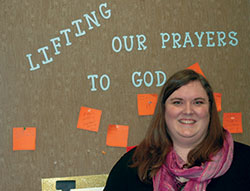 NEW ALBANY—It was a rare time of doubt and indecision for Elizabeth "Libby" Wright Saldanha.
All through college, she had achieved so many lofty goals, putting together a stunning four years in which she was class president and valedictorian while earning Academic All-American and Athletic All-American honors in softball.
And yet as her time at Saint Mary-of-the-Woods College in St. Mary-of-the-Woods came to an end in the spring of 2012, she became "frozen with all the possibilities" open to her, struggling to discover the next direction for her life.
"With all of the questions and uncertainty swirling in my mind, an opportunity arose to participate in a retreat hosted by the Sisters of Providence," Saldanha recalls. "It was on this retreat that I discovered a love for meditative prayer, and subsequently heard a phrase from God which has forever impacted me and my decision‑making—'Take me with you.' "
She says that "message from God" led her to accept a teaching position at Holy Family School in New Albany, where she is now in her seventh year. And the difference she has made there has led her to be chosen as this year's recipient of the Saint Theodora Excellence in Education Award, the highest honor for a Catholic educator in the archdiocese.
(Related: Finalists for teaching honor come from throughout the archdiocese)
"The path that brought me to Holy Family was nothing short of divine providence," says the 29-year-old Saldanha who teaches seventh-grade religion and seventh- and eighth-grade social studies. "And with each new endeavor I pursue, I am conscious to keep God at the heart."
An eye-opening experience
Saldanha believes that God was with her again in a moment that she uses to define her "greatest accomplishment" in teaching.
In 2015, she and her teaching partner Sarah Green noticed that their seventh-grade students didn't have the usual tight bonds that had connected previous classes. Remembering how a retreat had made a major impact on her life, Saldanha suggested that concept to Green, and the two teachers developed a retreat program based on the theme, "Encounters with Christ."
The retreat included a service project, bonding activities, the sacrament of reconciliation and a traditional Seder (Passover) meal. Saldanha says it also involved a first-time experience for the students "to look at God face to face"—eucharistic adoration.
"I first experienced adoration when I was on a retreat in high school, and I remembered thinking how eye-opening a prayer experience it was for me," she says. "I wanted to share that with my kids.
"It gives me chills to remember so many of the students' reactions to their first adoration experience. The kids looked changed and energized when they came out of there. One student said, 'That was the first time I felt God was talking to me.' They formed a relationship they didn't have before."
The retreat has become a mainstay of the seventh-grade experience at Holy Family.
"It continues to transform hearts year after year," she says.
A success story driven by faith
Saldanha has a gift for transforming the hearts, souls and minds of her students, say the people who nominated her for the Saint Theodora honor.
"The middle school years are a time of constant growth and change among most students," notes Father Jeremy Gries, pastor of Holy Family Parish.
"It is a time when they really start to mature and grow emotionally, physically and socially. They can also be difficult years. In this precious time, it is essential to have teachers of sound guidance and faithful witness to help the young people navigate. Libby is just such a teacher."
Fellow Holy Family teacher Elizabeth Lobeck regards Saldanha as a "dynamic," team-oriented instructor whose vitality, creativity and attention to detail shine through in her hands-on projects and her use of technology.
She also praised Saldanha's coordination of the annual eighth-grade trip to Washington. There, students have participated in laying a wreath at the Tomb of the Unknown Soldier and attending Mass at the Basilica of the National Shrine of the Immaculate Conception.
Still, Lobeck says, "I am most impressed by Libby's attitude toward—and treatment of—our students. She truly loves her students and looks for the best in them."
Anna Sekula has experienced that approach as a member of the current seventh-grade class at Holy Family.
"Mrs. Wright takes time to truly understand how the students need to learn," Anna says. "During our religion class, she connects us to our faith in ways we can understand. I can tell she cares a lot about her students. You can always trust her if you ever have a problem."
Holy Family's principal Jerry Ernstberger also notes that Saldanha's students "perform far above both archdiocesan and state achievement levels" in Indiana's standardized testing.
"I believe her success begins and is driven by her faith and her stewardship of her many talents," he says. "Her devotion to prayer and meditation is shared with teaching staff and students alike."
That focus on faith also extends to her home parish, St. Mary-of-the-Knobs in Floyd County, where she married her husband Mervyn on Sept. 22, 2018. There, she is an extraordinary minister of holy Communion.
For Saldanha, everything she does comes back to God's guidance for her to "take me with you."
"My ministry as a teacher is a role I fully believe has been entrusted to me by God. Though my classroom responsibilities are hugely important to me, I feel my most influential role lies in my calling to be a living witness to our faith each and every day.
"When former students come back and ask me to sponsor them as they make their confirmation or when a good friend asks me to be a spiritual mentor as a godmother to her infant son, there is no feeling that's equivalent. When others are able to see the love and devotion I have for my faith, I know I am serving our God well."